Case Study
How the University of St. Gallen (HSG) engages its students to improve learning outcomes.
Contact us
The Challenge
Students are demanding entertaining and efficient learning tools (Source: McKinsey*). That is why they turn to modern, engaging learning solutions such as Anki, Studysmarter, or Quizlet since universities' LMS systems cannot meet their expectations.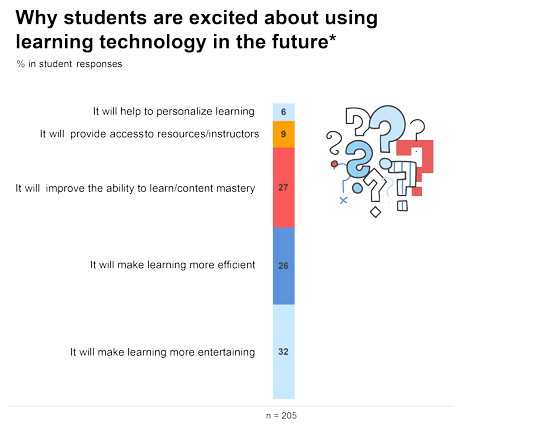 *Brasca, C., Marya, V., Krishnan, C., Owen, K., Sirois, J. and Ziade, S., 2022. How technology is shaping learning in higher education. McKinsey.com.
The Teaching Innovation Lab of the University of St. Gallen spotted this trend early on and decided to partner with Brian to implement an engaging and effective learning solution for their students.
The Set-Up
In the fall of 2020, the University of St Gallen started a pilot project to evaluate the impact of Brian's study tools on student performance.
The University of St. Gallen (HSG) is a public university located in St. Gallen, Switzerland. It is ranked among the top business universities in Europe by the Financial Times. It is a member of the CEMS and APSIA and is EQUIS, AACSB and AMBA accredited (triple crown).
The pilot project was supervised by the team of the former rector of St Gallen, Professor Thomas Bieger, and was carried out in his course "Business Administration", in which approximately 1500 first-year students are enrolled each year.
The Result
Within 5 months, 1423 students had answered 3'421'383 questions on the learning platform Brian. More than 95% of all students enrolled on the course used Brian, even though its use was neither mandated nor graded.
>95%
Adaption rate of students
>2000
Questions answered per student
>3,000,000
answered quiz questions in one semester
In the official course evaluation, students indicated (Top of Mind) that Brian contributed significantly to their learning success.
Official Course Evaluation
What contributed significantly to the learning success?
"Brian"
"v.a. die Lernapp Brian"
"Lernapp Brian, genial und macht Spass!"
"Brian ist sehr hilfreich um Sachen zu repetieren."
"Brian (App) ist wirklich hilfreich, um zu üben."
…
The game-like elements such as the leaderboard function and the multiplayer mode served their purpose: they created a motivating learning environment that students voluntarily used to prepare for the exam.
The vital usage data and encouraging qualitative feedback lead to the implementation of Brian in additional courses at St Gallen. Brian is now available across the entire university and used in a diverse range of subject areas including Economics, Russian Language, Finance, Business Studies, etc.
Enhancing Learning Outcomes
In a separate, ongoing study, Brian's impact on the students' learning outcomes is being assessed. To facilitate this, anonymous usage date collected by Brian is made available to university researchers who then track this data against exam results.
The level-log regression analysis indicates that the number of questions answered in Brian had a positive impact on how many points were achieved on the exam (F(1,1439) = 394.908, p < .001). 21.5% (adjusted R²) of the variance of the points on the exam are explained by the natural logarithm of the number of answered questions in Brian, which according to Cohen (1992) corresponds to a strong effect (f = 0.523).**
In short, students who studied with Brian had better results than their peers.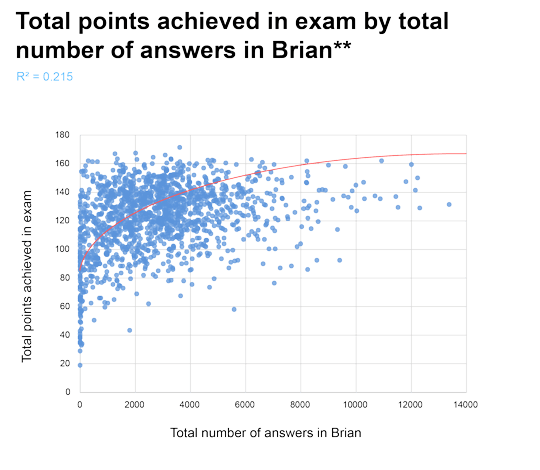 ** The study is still ongoing and will be shared as soon as it is fully available.